Carbon Reporting 101: Everything Your Company Needs to Know in 2023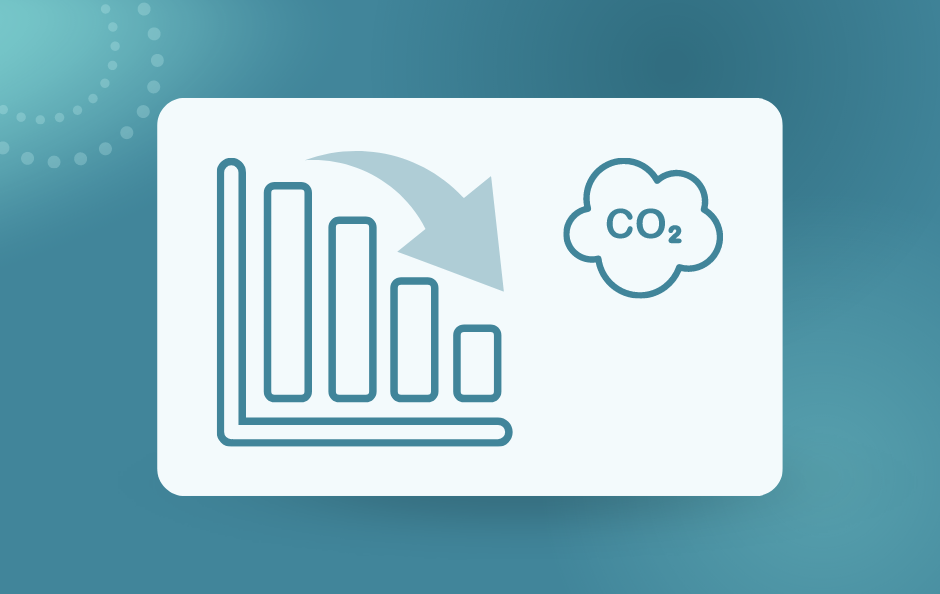 If you're reading this article, you might be considering the idea of conducting a carbon report for your company. However, you might still be uncertain about whether it's something you truly want or need to do, as well as how to go about it and what exactly it entails.
In this comprehensive guide, we'll tackle all of these questions (and more).
1. What is a carbon report?
A carbon report is a comprehensive document that dives deep into an organization's greenhouse gas emissions. It's a valuable tool that helps track, disclose and ultimately reduce the carbon footprint of businesses. By analyzing the emission sources, like energy consumption, transportation, and production processes, you can gain insights into the environmental impact of your company and make informed decisions to minimize it.
2. Who are carbon reports for?
Of course, every business and organization can have a carbon report (and at Tapio, we think everybody should have one). However, reporting about GHG emissions can be mandatory depending on the geographical area, the size and scope of your company.
Recently, the EU has proposed the Corporate Sustainability Reporting Directive. This new directive aims at standardizing sustainability reporting. In addition to this, more large companies operating in the EU will have to start reporting on their environmental impact, including greenhouse gas emissions.
If you want to read more about it, read our guide on CSRD for businesses. Below, you'll find a timeline of when companies will have to comply.
3. What are the advantages of having a carbon report?
A carbon report is a fundamental step to decrease the environmental impact of your company. Quantifying the amount of greenhouse gasses (GHG) emissions will allow you to target the main sources of emissions in your value chain. The aim is to have a value chain that is sustainable by design and that stays within planetary boundaries. As a consequence, it's sometimes necessary to redesign a product or service to make it more sustainable.
These changes will also have a positive impact on other aspects of your business. For example, having a carbon report will benefit your finances and the satisfaction of your employees and clients.
In one of our blog articles, we've explained the 5 benefits of carbon accounting. In the following image, you can visualize them briefly.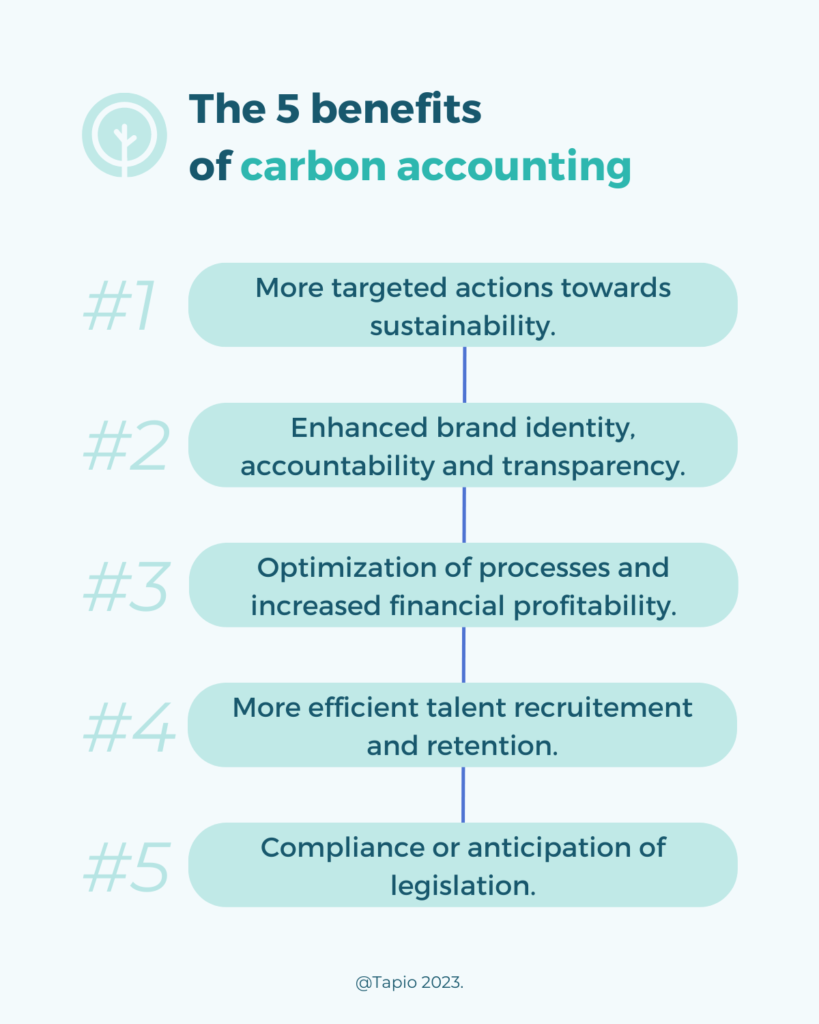 4. How is a carbon report made?
Although international and national institutions are trying to standardize carbon reports, there isn't one single method that is used by all companies and organizations in the world. In the following paragraphs, we'll explain some of the choices that you'll have to go through to do a carbon report.
4.1 The difference between spend-based and activity-based carbon reports
Spend-based carbon reports calculate emissions based on how much money a company spends. In other words, the more money a business spends, the higher their emissions.This kind of report is very quick to make, but it's far less accurate.
This is because the price of products and services is influenced by factors that don't have anything to do with the amount of emissions produced, such as labor cost, the current demand for a certain product and the production volume of suppliers.
Activity-based carbon reports track actual actions or activities happening within a company that produce emissions. This type of report is more time-consuming and requires a greater amount of information,but it's far more informative.
For example, you will need to gather precise data about how many liters of water or electricity your company consumes.
Tapio mainly uses activity-based carbon reports, as they're more accurate and they allow to identify the emission sources that a business can work on to reduce their carbon footprint. However, based on the needs and maturity of a company, we can simplify the process by choosing a spend-based approach.
4.2 Methodologies and standards for carbon reports
Other than choosing between these two ways of doing a carbon report, you also have a wide variety of international, national and private methodologies and standards.
The GHG Protocol, ISO 14064, the CDP and Bilan Carbone© are four of the most widely used carbon reporting standards. Here's a short presentation of each of them:
GHG Protocol

: it's the most widely used standard used by companies to measure and manage their greenhouse gas emissions.
ISO 14604: it's another international standard that provides guidelines for organizations to measure and report their greenhouse gas emissions, as well as validate emission reduction projects.
Bilan Carbone©: it's methodology developed by the French Environment and Energy Management Agency (ADEME) for

carbon footprint

assessment.
CDP: it's a global disclosure system that enables companies and cities to measure, manage, and disclose their environmental impacts, including carbon emissions through a standardized questionnaire.
Tapio's methodology is created following the standards mentioned above and adapting it to the needs of our clients for optimal understandability. Depending on your company's situation, you might need to use a specific methodology. Talk to an expert about your specific needs.
4.3 How do you calculate emissions?
Before calculating, it's important to set the organizational and operational boundaries of your company. In other words, you have to understand which sites, infrastructures, facilities, activities and operations you want to take into account when calculating emissions.
Once that's clear, you can now start doing your carbon report.
The first step to calculating emissions is gathering activity data. This means, for example, knowing how much electricity you consume or how many kilometers you cover. For each activity, you will need an emission factor that's going to tell you how much CO2e is emitted by every activity. This information is available in various official databases.
It's important to notice that even if the name of this report includes the word "carbon", it doesn't include only carbon dioxide (CO2) emissions. In carbon reports, human-caused greenhouse gas emissions are converted to the common unit CO2 equivalent (CO2e). This allows an easier conversion and comparison of the impact of organizations.
5. I already have a carbon report, what's next?
If you already have a carbon report, you're one step closer to becoming a more sustainable company! However, before reaching that goal, there are other steps you have to take.
To support companies in this process, we work in three main stages, which are explained in the following paragraphs.
5.1 Understand
Understanding a spreadsheet full of data will take you lots of time if you're a sustainability expert, let alone if you're not familiar with the sector. That's why it's important to visualize your company's carbon report through meaningful graphics and charts.
Once you fully grasp the extent of your carbon footprint, you'll be able to take targeted actions to reduce your carbon footprint!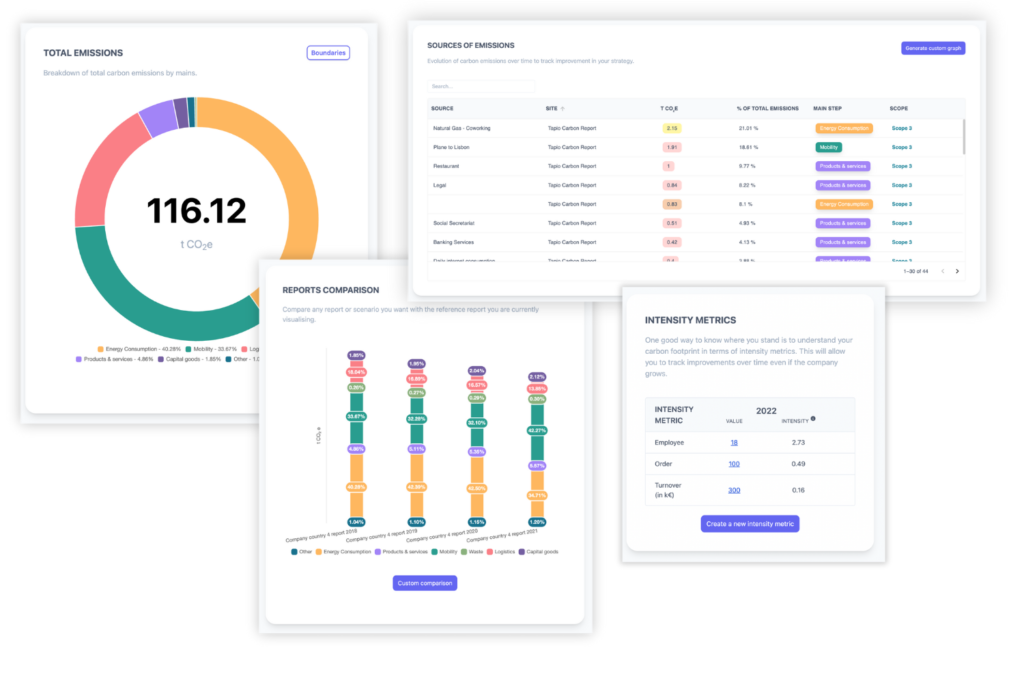 5.2 Act
Data is useless unless you actually act on it. You know what are the biggest emission sources of your business. Now it's time to create a strategy to reduce your company's carbon footprint.
This involves a variety of actions aiming at reducing scope 1, 2 and 3 emissions. For example, you might want to optimize energy consumption, switch to soft mobility for your logistics, change to local suppliers and start serving vegetarian meals in your company's canteen.
In the following image, you can see what each emission scope represents.
5.3 Engage
Taking action alone isn't fun, and it isn't as effective either. Once you have a strategy and some results you can be proud of, you can communicate about it with your employees, partners and clients. The ultimate goal is to spark interest in them and involve them in the fight against climate change.
For example, you can do so by displaying your efforts on a customized carbon strategy landing page (see Tapio's carbon strategy) or by organizing a workshop for your team.
Any questions about carbon reports for businesses?