Carbon management platform
Our platform offers a wide range of carbon management tools for climate experts. There are three main sections – understand, act, and engage. Each section is divided into apps to help you build the perfect climate strategy.
Project manager
The Project manager is where you can create and visualise your project roadmap, assign tasks to team members, and track progress along a timeline. With a clear overview of your project's progress, you can easily stay on top of deadlines, manage resources, and keep everyone aligned toward your goals.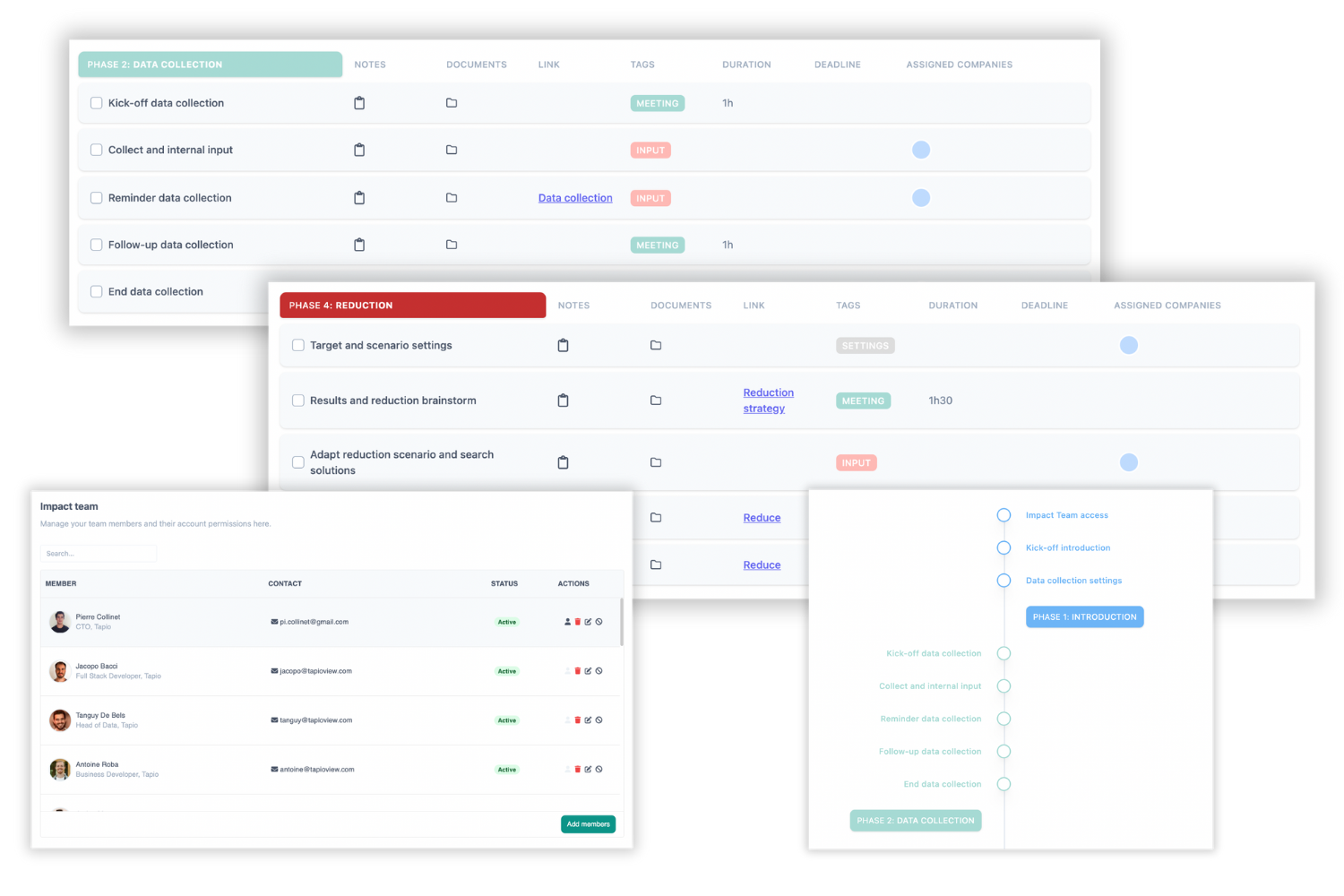 Data collection
Our Data collection feature is designed to make collecting and processing emission data as easy and accurate as possible. With access to over 14,000 emission factors from the world's most trusted databases, you can be sure that your CO2e calculations are reliable and accurate.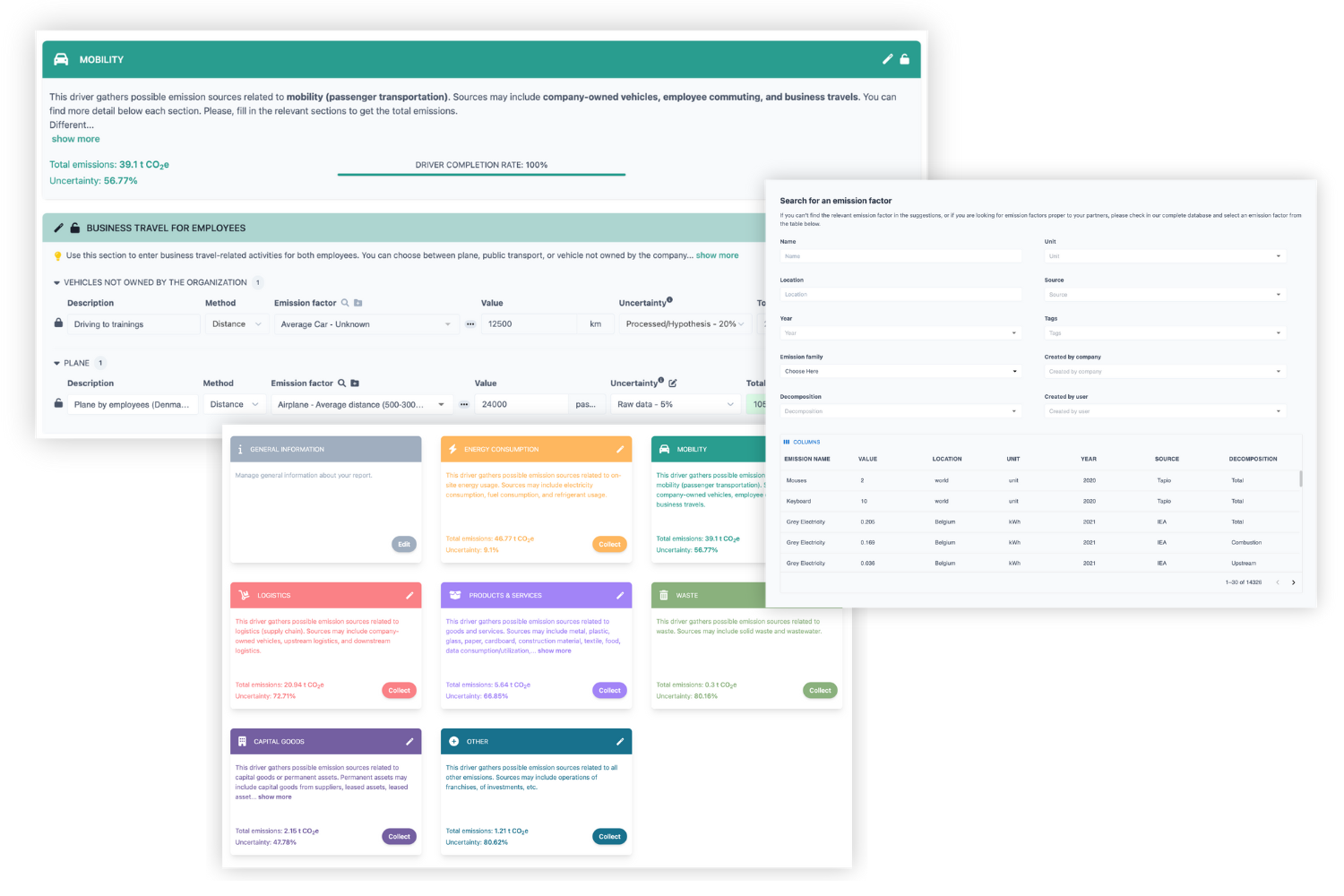 Report analytics
Our powerful analytics engine processes the collected data and presents your carbon report in an easy-to-understand format. A dynamic dashboard allows you to understand every detail of your carbon footprint. You can compare reports from different sites or different years, track your progress against your reduction targets, and export the report in a regulation-compliant format.
Carbon translator
With our 'Carbon translator' functionality, you can easily translate your carbon footprint into relatable metrics that are easier to understand for your stakeholders. Our platform offers a range of pre-defined metrics, such as the yearly average emissions for a Belgian citizen, an hectare of forest, a return flight from London to New York, and many more. We can also create custom metrics based on your specific needs. This feature is particularly useful for communicating the impact of your climate strategy to both internal and external audiences in a meaningful and relatable way.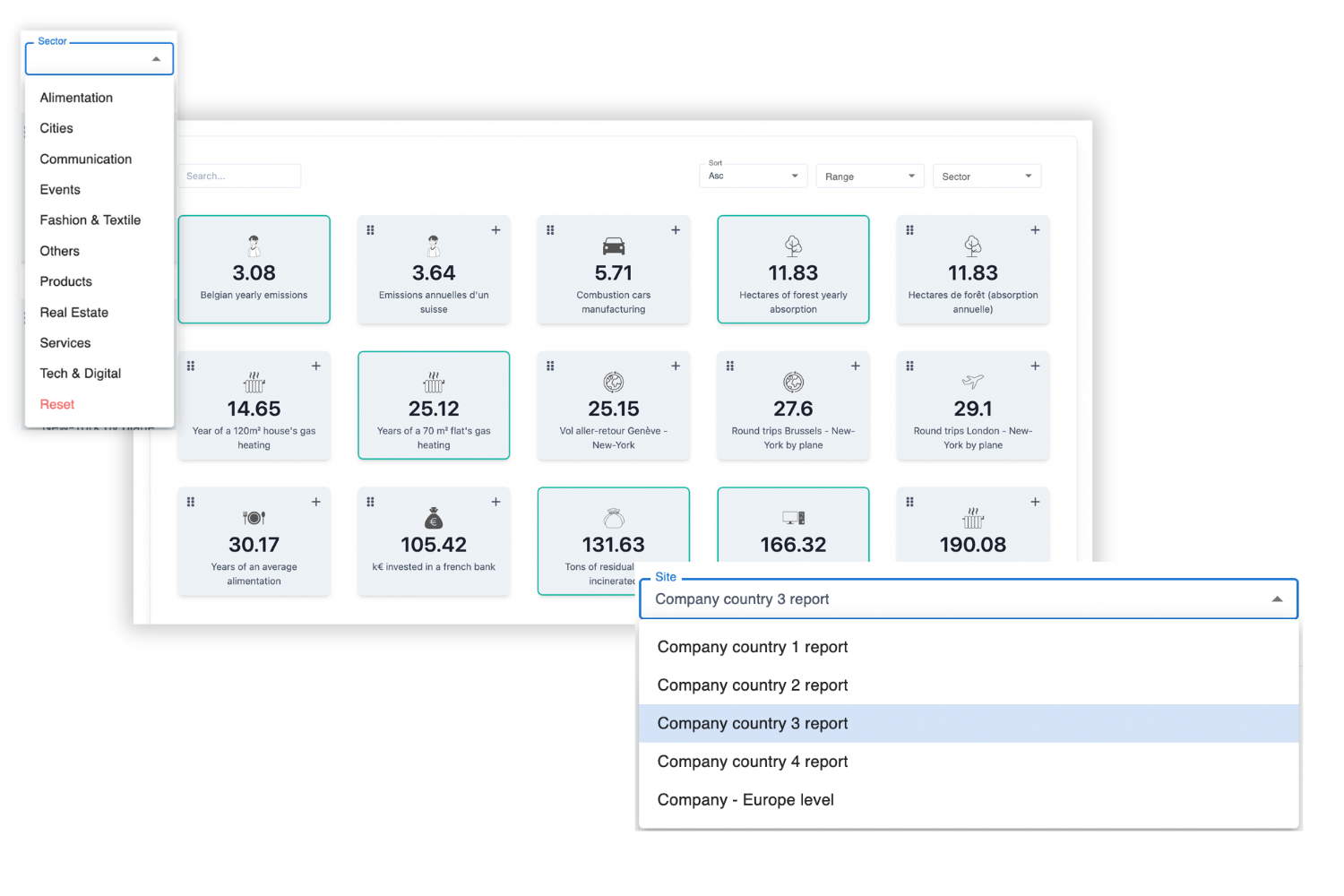 Targets
With this functionality, you can easily set emission reduction targets and create a custom action plan to achieve them. Our platform provides you with a clear visualization of your carbon reduction strategy, making it easy to monitor your progress and stay on track to meet your goals.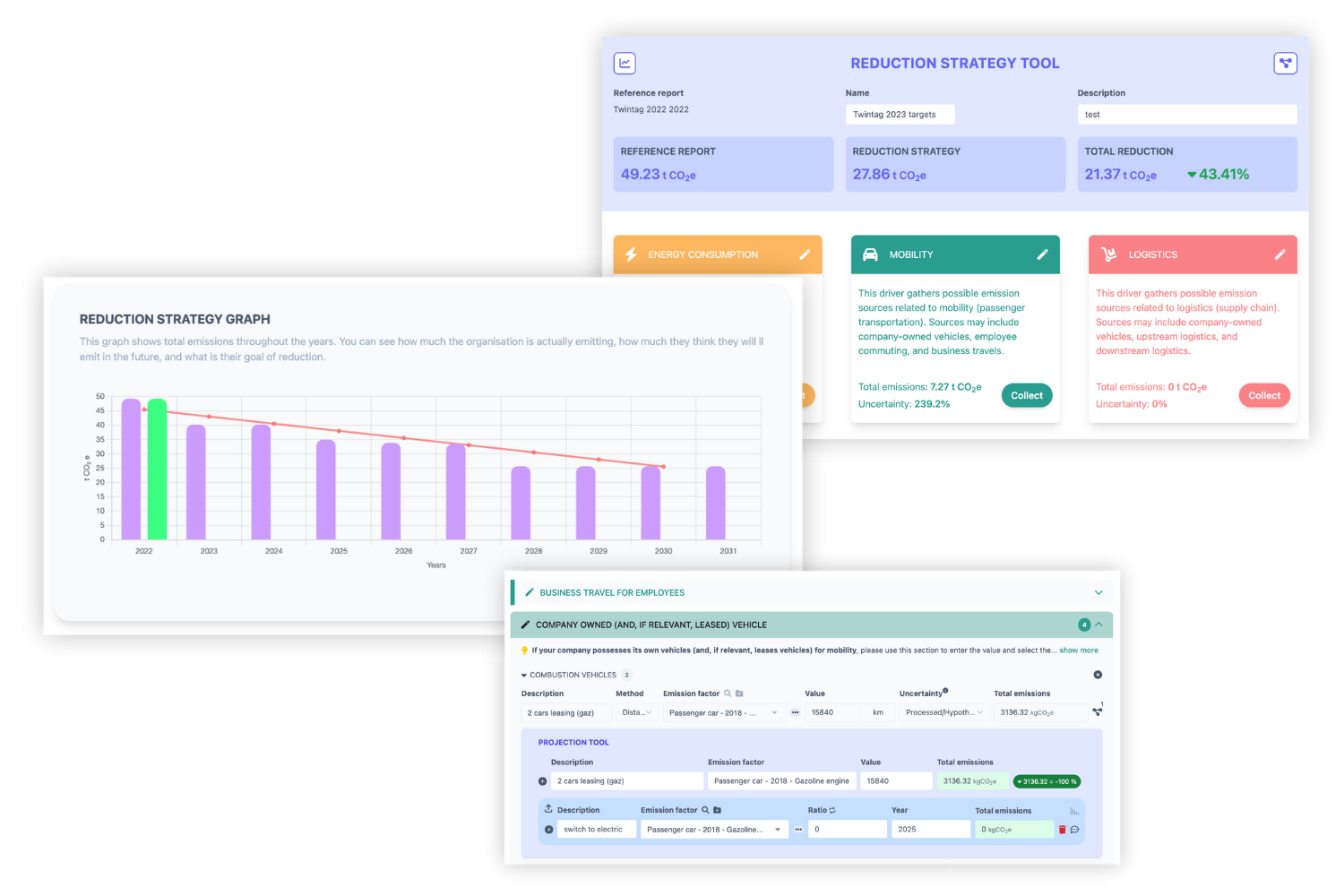 In the Scenario application, you can create reduction measures and assemble them into scenarios. You can then quickly check whether the scenarios will enable you to achieve the targets you set in the previous application.
Solutions
Our solutions marketplace provides you with a database of over 400 sustainable solutions to choose from, including the latest solutions on the market. With the ability to search by sector, country, and more, you can easily find the best options for your business's sustainability needs. If your company provides a solution with a positive climate impact and you would like to join our marketplace, don't hesitate to get in touch!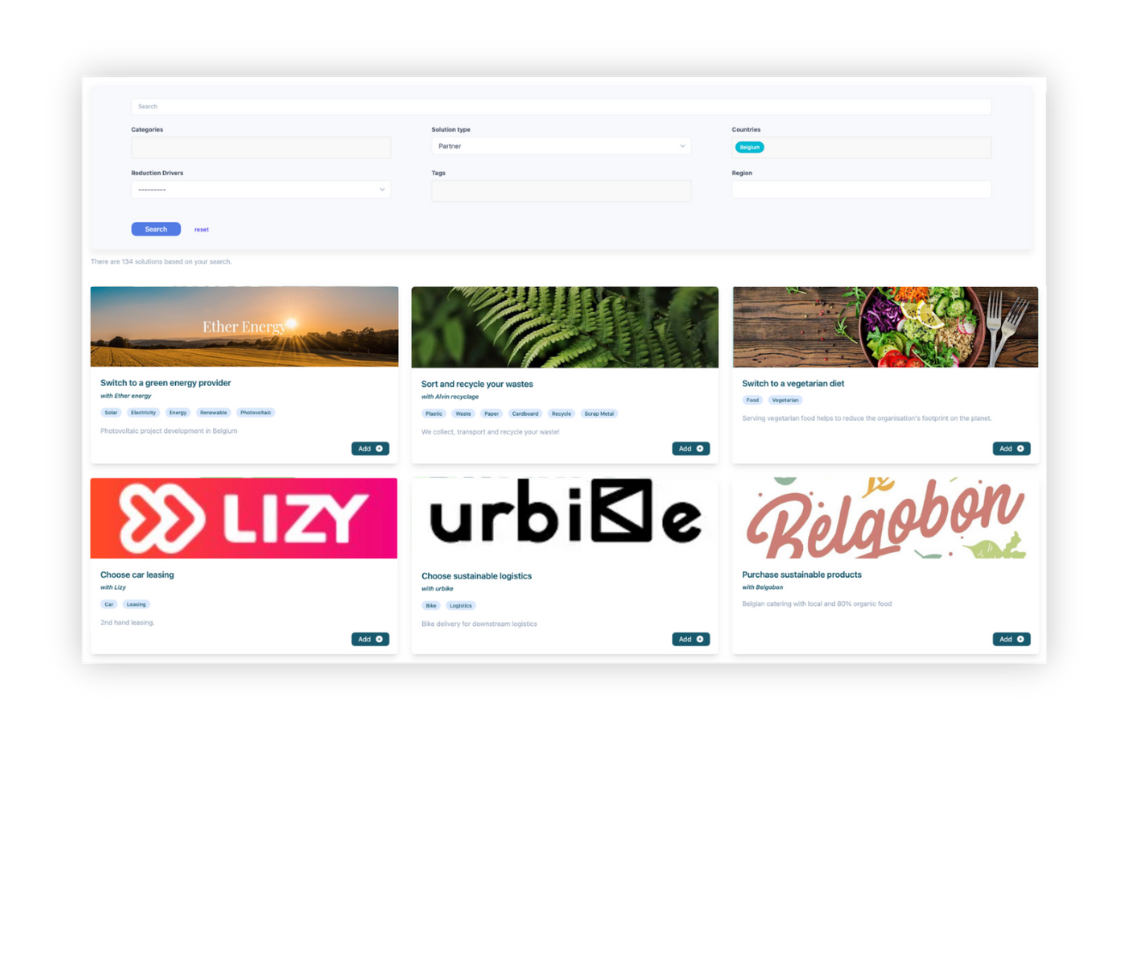 Projects
Our platform allows clients to choose from a variety of trustworthy carbon-positive initiatives and projects. We strongly believe in the importance of supporting meaningful, verified projects that have a real impact on the environment. We encourage the use of the term 'carbon contributions' instead of 'carbon compensation/offsets' because we believe it to be more accurate and less misleading, and we aim to protect our customers from any greenwashing claims.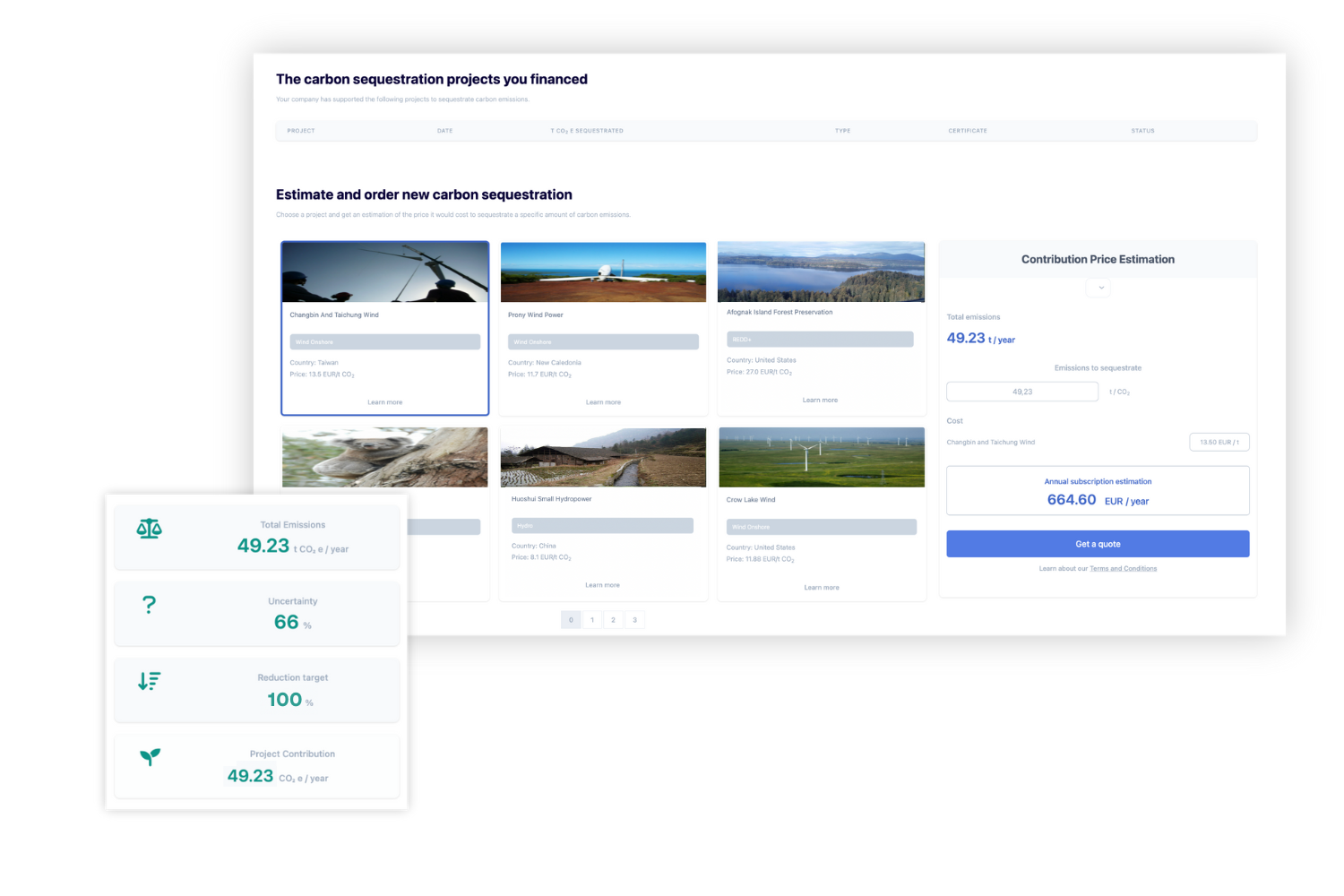 Carbon strategy page
This feature will allows you to create a public page to showcase your climate strategy. This page is completely customisable and can be tailored to showcase the information that the company wants to share with the public. It provides an easy way to communicate with stakeholders about climate progress, including the team behind the project, climate ambitions, reports, solutions and contributions implemented. By making this information transparently available, businesses can build trust with customers, employees, and other stakeholders.
Custom forms
Our custom form functionality enables you to create personalized forms to collect data from employees, customers, or suppliers with ease. You can easily gather specific information such as mobility data or energy consumption data from your team in an efficient and streamlined way.
Workshops
Our workshops are designed to educate and engage key team members from organisations about their climate strategy. From interactive sessions like 'Fresque du Climat' to custom experiences designed to meet your specific needs, our workshops are fun, engaging, and will help your team gain a better understanding of climate issues and how they can make a difference.
Auditable reports
With the auditable reports functionality, users can easily export their carbon report in a compliant and auditable format. The report provides transparency on the methodology, hypotheses, and emission factors used in the calculations, as well as access to all documents related to the data collection. This feature helps ensure that the carbon report meets regulatory requirements and can be used for internal or external auditing purposes.
Discuss your climate strategy with one of our experts.