Successful collaboration between Tapio and an actor of the catering sector, BAVET
BAVET and Tapio have partnered up to accelerate climate actions in the catering sector. Thanks to Tapio's expertise, BAVET was able to pinpoint key areas for action to reach carbon strategy goals and will encourage all the actors of its value chain to embark in this process.
In a nutshell
In 2021, BAVET, a fast casual restaurant group, wanted to obtain the carbon footprint for one of its restaurants and its menu. Delighted with this first mission with Tapio, BAVET decided to repeat the experience one year later for four additional restaurants while reflecting internally on carbon reduction strategies. A quick look at BAVET's motivations and the support provided by Tapio.
Objectives
From the start, BAVET was willing to play a role in the ecological transition. In 2021, they called on Tapio to understand the importance of its carbon footprint. Globally, the catering sector remains a major contributor to greenhouse gas emissions. Therefore, the calculation and analysis of the carbon footprint as a first essential step appeared to be obvious. As a result, BAVET's team committed to listening more carefully to its stakeholders who are seeking greater ecological transparency.
Solutions
Famous for its convivial moments around a plate of delicious spaghetti, BAVET desiring rapid support in the development of a carbon balance decided to take the step forward by collaborating with our team. Thanks to Tapio's data collection tool, our experts were able to meet needs by analysing the climate impact of their restaurants and menus; initially for a first restaurant in 2021, and then for four additional establishments.The results of their analysis are quantified emissions and illustrated through various graphs in the "Dashboard" feature. This insight allows for better internal strategic decision-making and more transparent communication.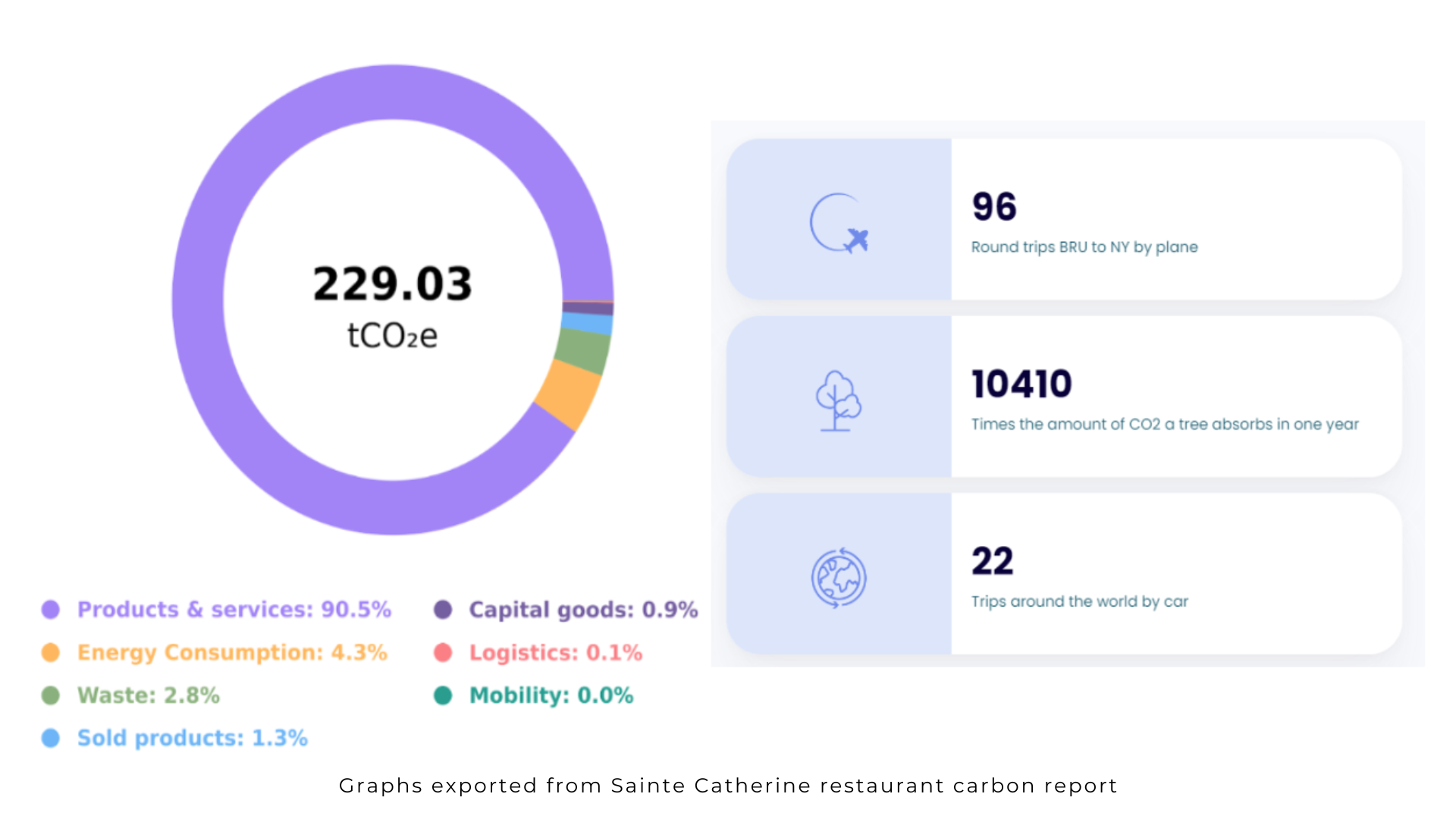 Results analysis
Unsurprisingly, BAVET found that the majority of carbon emissions came from meat (60%). Of these emissions, 60% came from the production of their most produced bolognese sauce, specifically the "traditional" sauce with meat. By analysing this report in more detail, one realises that almost 14% of their carbon footprint comes exclusively from the production of meatballs, placing this link of the value chain as the third largest emitter. While the creamy tomato sauce with thyme and mushrooms represents only 1% of their total emissions. In fact, the recipe made from meatballs, chicken slices, bacon and cheese emits 6.1 kg of CO2e per meal.
Unlike the recipe made with meat, the vegetarian recipe made with tomato, arugula, and cream cheese emits only 1 kg of CO2e per meal. Besides, while waste and employee mobility emissions represent less than 3% of BAVET's total emissions, the emissions coming from products and services remain the most impacting item with over 90% of CO2e. Eventually, energy consumption (4%) from direct GHG (Scope 1) comes mainly from natural gas (3%).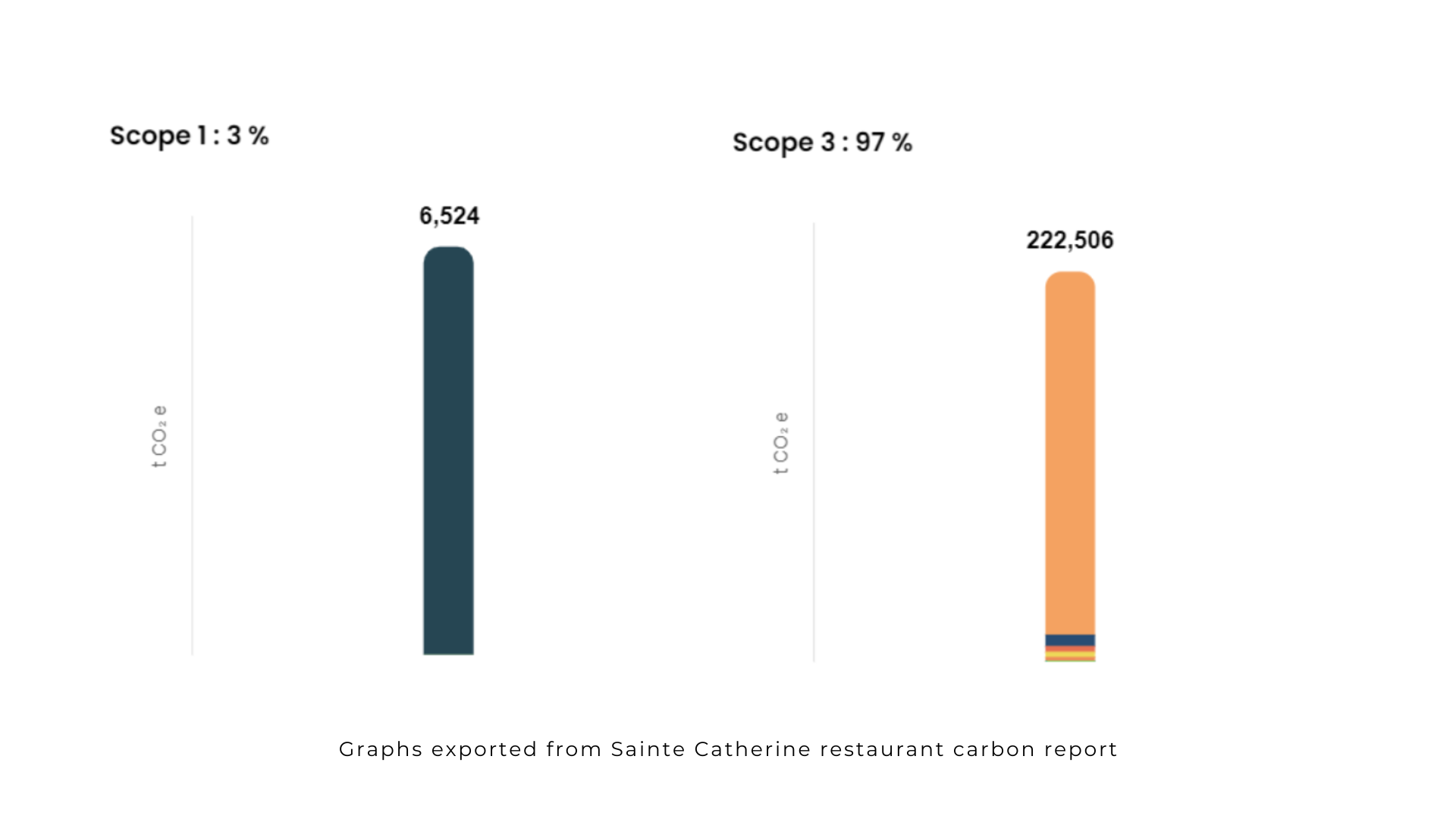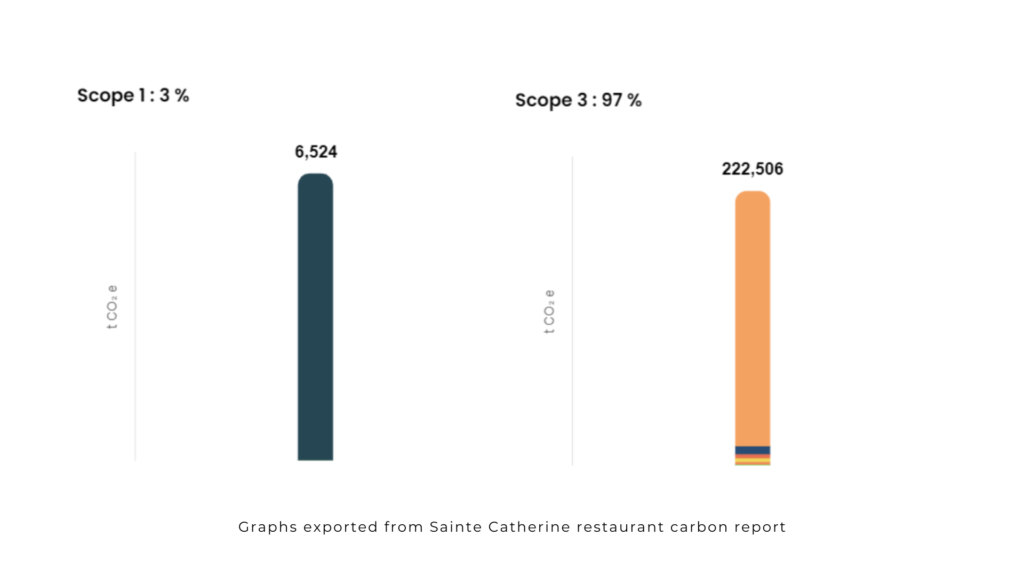 Engagements
For BAVET, it was clear that ingredient sourcing should be considered as a priority in the implementation of a carbon reduction strategy. Nevertheless, Tapio's report has enabled BAVET to pinpoint key areas for action to reach carbon strategy goals. By extension, BAVET's employees and suppliers are becoming aware that the reduction of emissions must be approached step by step and that each actor of the value chain should necessarily be onboarded in these changes. This internal awareness is already illustrated in the choice of some of the company's suppliers who attach great importance to the origin and quality of its food.
Additionally, a major internal communication as an awareness campaign is currently being deployed in various restaurants. In the future, the restaurants are committed to delivering more transparent external communication, for example by highlighting the CO2 impact of each dish served to consumers. The implementation of an action plan for intelligent and responsible investments is also part of BAVET's wishes. To fulfil these goals, the employees will work together with a consultancy company on the overall CSR strategy and with Tapio on concrete actions to reduce CO2 emissions.
The CSR Manager has re-emphasized this ambition:
"I recommend all companies to embark on the Tapio adventure. On the one hand, to be more resilient in the face of tomorrow's challenges, and on the other hand, to be one step ahead of the regulations on GHG emissions reporting. More generally, I encourage companies wanting to tackle climate change to implement a sustainable business model and integrate climate thinking into the decision-making process from the outset. That's why our establishments are committed to listening to its customers, while helping to fight global warming."
The catering sector remains a major emitter of greenhouse gases. This new reality can prove to be a huge challenge for players in the hospitality industry. With Tapio, you are in good hands. Estimate now the carbon footprint of your establishment or get an estimate of the price according to your profile and your current needs!
Sources :
L'alimentation, un enjeu écologique majeur. (2020, May 15). Bruxelles Environnement. https://environnement.brussels/thematiques/alimentation/enjeux-et-impacts/lalimentation-un