atlasGO x Tapio: engaging employees in a playful sustainable mobility challenge
The best partnerships are those where two companies can each bring their expertise in order to propose a unique offer. The partnership between atlasGo and Tapio is one of them. Together, let's make the change happen by launching challenges combining business and fun!
For many people, reducing their carbon footprint means tedious processes, red tape and extra costs. What if we told you that it is possible to combine business with fun? That's the challenge that Tapio and atlasGO have taken up. atlasGo is a Belgian-American B Corp certified company that has developed a mobile application to engage employees in fun and impactful actions.
The objective of this collaboration was to invite companies to raise awareness among their employees in a playful way so that they can reduce their carbon footprint. How can they do this? By favouring soft mobility.
Complementarity as key driver for change
The challenge took place during one month in September 2022 on the occasion of the European Mobility Week. The objective is to encourage the employees of the participating companies to act on their journeys. How? By indicating on the atlasGO app the means of transport they use and the distances travelled. The calculator provided by Tapio allows them to instantly assess the impact of the journeys they make in terms of the amount of CO2e not emitted into the atmosphere compared to using a car.
The least we can say is that companies have responded positively to the call. Among the participants were some of our clients and partners such as Silversquare, known for its cutting-edge coworking spaces, the Speculoos specialist Maison Dandoy, Greenfish part of Accenture, a sustainable development consulting agency, and the software developer Mobilexpense.
While the ecological transition presents many challenges, it also encourages the bringing together of companies with varied expertise. As in our case, this can lead to fruitful partnerships. The success of the initiative is therefore explained by the dual solution offered by atlasGO and Tapio. Indeed, as Cédric Vandermeersch, director of the Belgian office of atlasGO, points out, the best partnerships are those where two companies can each bring their specific expertise in order to propose a unique offer. A statement reaffirmed in the press by Louis Collinet, CEO and co-founder of Tapio.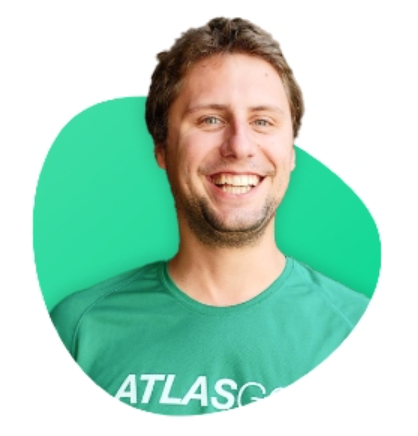 "The best partnerships are those where two companies can each bring their expertise in order to propose a unique offer."
Cédric Vandermeersch, Director of the Belgian Office of atlasGO
In addition, the two companies have each made their own contribution: on the one hand, through atlasGO's ability to engage employees in a playful way around mobility thanks to the social functions of these applications (chat, comments, photos); on the other hand, through Tapio's ability to offer a detailed view of the impact of the participants during the challenge.
More than encouraging results
Throughout this challenge, Tapio did not hesitate to get involved by mobilising its employees and the Silversquare ecosystem. At the end of the four weeks, the participating members of Silversquare had encoded nearly 1000 activities that allowed them to save 4650 kg (4.7 tons) of CO2.
This represents in concrete terms :
214 times the amount of CO2 a tree absorbs in a year.
2 round trips Brussels – New York by plane or 7 round trips Brussels – Nice by plane.
The CO2 emitted by 9,235 vegetarian meals or 748 meals with red meat.
To achieve these results, they travelled 17,450 km by train, 2,729 km by bike, sometimes in bad weather, 2,397 km by car, and many other journeys by metro, tram, scooter, rollerblades, etc.
It remains to be seen whether the participants will keep up their good soft mobility habits. Nevertheless, this result is particularly encouraging and encourages the organisers to repeat a similar experience.
The importance of the team, values, and difficulties
For Cédric Vandermeersch, two elements have contributed to make this partnership really unique and enjoyable. The first is the opportunity for atlasGO to work with a young team, passionate and driven by the meaning of its actions. Indeed, as he formulates it, it is sometimes difficult to find meaning in one's work. The second is the fact that the atlasGO and Tapio teams share the same values, ambitions, passions and have gone through the same difficulties. These similarities were determining in the motivation of both companies to propose an original and quality initiative.
Together, let's make it happen
Climate action is often perceived as difficult to implement. However, it can sometimes inspire actors to join forces to initiate change at their level. Our initiative and the enthusiasm of the participants is a perfect example. Acting in favour of the transition can also be done in a playful way. There are already plenty of similar tools to help you become aware of your footprint and learn more about the solutions you can implement. Last but not least, do not underestimate the power of collective initiatives as they can stimulate reflection and action.
We are already looking forward to repeating a similar experience. Are you ready to join us?
Reach out to antoine@tapioview.com if you want to participate in 2023!
Sources
VAN LIL, P. "Changer de mobilité : des entreprises se lancent dans l'aventure" 9 septembre 2022, disponible sur https://references.lesoir.be/article/changer-de-mobilite-des-entreprises-se-lancent-dans-l-aventure/ (consulté le 25 janvier 2023).